The Soil Association
Since its formation in 1946, the Soil Association has grown from a small but influential voice challenging the orthodoxy of chemical-based intensive agriculture, to an international authority on the principles and practices of organic farming.

Organic Growers Alliance
To bring growers together so that through this alliance we have the ability to promote our interests, wherever matters affecting our work are determined, and the means to benefit individually and collectively from opportunities to share our experience of growing and of all that goes with it.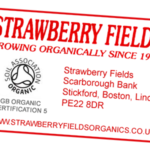 Strawberry Fields
Welcome to Strawberry Fields, one of Lincolnshire's finest organic farm produce businesses. Click on the link to visit our site and read about our life on the farm.