Online Ordering
Celebrating bountiful British beauties – short cucumbers and aubergines from Haslum, rhubarb from Bedlam and purple radishes from James Foskett
Good afternoon, Organic Northerners,
This morning's sunshine is taking the edge off the lingering frustration we have for the Jerseys not arriving as scheduled yesterday. They arrived overnight last night so Tuesday customers are unaffected, but apologies to those who unfortunately missed out on these yesterday. We babysit quite a few hauliers to ensure that their internal mistakes are caught…looks like we'll have to add another to the list for at least the short-term.
Further offsetting the annoying Jerseygate yesterday is the news you may have seen last week that the UK government has decided to push back the implementation of the post-Brexit phytosanitary regulations it was due to introduce. The new organic standards regulations on imports have similarly been pushed back to the same time, which we're mightily relieved about. A drama for another time : )
Last up before I tackle the fruit & veg goss, a note on some suppliers that we won't have listed on the Jubilee week list that goes out on the 31st May. These will be Nemi, Grumpy Mule, High Weald Dairy and Aconbury Sprouts.
Also, for customers who would usually be expecting deliveries on the Thursday or Friday that week (including customers who receive pallets on the Thursday), we need to arrange with each of you a plan of action.
For the pallet customers, this may mean receiving a more expensive chilled pallet as our chilled haulier is the only one working that day, or it may mean having your usual Weds pallet leaving us a day earlier on Tuesday. We'll need to know your preference.
For deliveries on the Thursday/Friday via our vans, these will run as normal unless you tell us otherwise as any other bank holiday.
As much as we would enjoy the days off, we're generally not mad on bunting and flag waving this end so to reiterate, deliveries will run as pretty much like normal unless we plan alternative arrangements with you.
Fruit & Veg headlines:
With some slight trepidation, we've listed a new variety of spuds from Master Farms called Colleen. These will taste fab, are comparable to the Jerseys but arrive at a much better price so barring any no shows, these are well worth a punt.
From the Tomato Stall this week we have three brand new lines- namely, beefsteak, large San Marzano and kumatoes. Kumatoes will likely arrive a dark green colour and, when they're like this, they're pretty firm, mild tasting and easy to slice. When they ripen some and turner a chocolate colour, they become sweeter and sometimes even slightly spicy – great for salads these and a very well thought of variety of tom.
For only the second time ever, we've some produce from the fab enterprise up in the Lakes called Grow Well who's work supports folk with mental health issues. Current logistical challenges mean that we can only list these for customers with orders later in the week but this week we've been able to list some bunched turnips (these look ace – a special variety), some bagged true spinach and some bagged red Russian kale too. Chuffed to have these available, and looking forward to seeing the quality of them, as this is the first time that we have listed these lines from them.
Sticking with the market gardeners, there's quite a lot of additions this week though all as ever limited in availability given the size of these growers. Simpson has some summer pointed cabbage, bunched carrots and loose leaf spinach. Glebelands have a few boxes of bunched turnips – always grand these. W&T have added oakleaf red lettuce, some little gems and a few boxes of spring onions too. And Goodness Growing has listed a couple of boxes of rainbow chard and spinach.
We were very impressed with the grey oyster 'shrooms from Dart Valley and they've a few more boxes available for next week too.
From abroad, Mais continue to impress. A couple of you rightly had issues with the size of the pak choi and the bunches of spring onions to begin with, but we've resolved these – just new supplier teething problems. The spring onion bunches now have a minimum weight and contain at least a few onions in the bunch, and their choi we're choosing not to list as they were really tiny and more like a bok choi. The quality of the rest has been great though and we've been chuffed with them. We tried the lemon thyme and pineapple sage yesterday and both total flavour bombs! Elsewhere, Bioalgarrobo have added some cucumbers and green beans.
Lastly, Gospa have come good with a late fresh picking of clems. These are apparently juicy, sweet and firm and have been graded, so we've no reason to believe that they'll be like the last batch that they sent that wasn't as impressive as what they usually send.
On the wholesale front, Dynamis have listed an array of new lines. Most immediately interesting the shiitake and oyster mushrooms, bunched white onions, long red radish, galia melons, basil and verbena. Zann have nothing new this week and they're actually starting to piss us off a bit. More on this another time, but there's a chance that we might look for alternatives to Zann unless they stop being annoying.
From the bottom of the list, we've a fresh delivery of Sam Smith's beers in including a new organic wheat beer that they do. Tastes banging and perfect for a sunny day. The Ethical Dairy have also relisted their medium cheddar wedges too.
Looking forward to next week we're fully expecting Newfields to return to the list with their first pickings of spinach and chard. They'll probs have decent amounts of both too. We will also most likely have lots of bunched UK carrots next week from Foskett's.
Here's some Creedence for you to listen to as you're putting your orders together : )
https://www.youtube.com/watch?v=ZWijx_AgPiA
Have a great week,
Cathryn, Josie, Ellen, Sean and the team x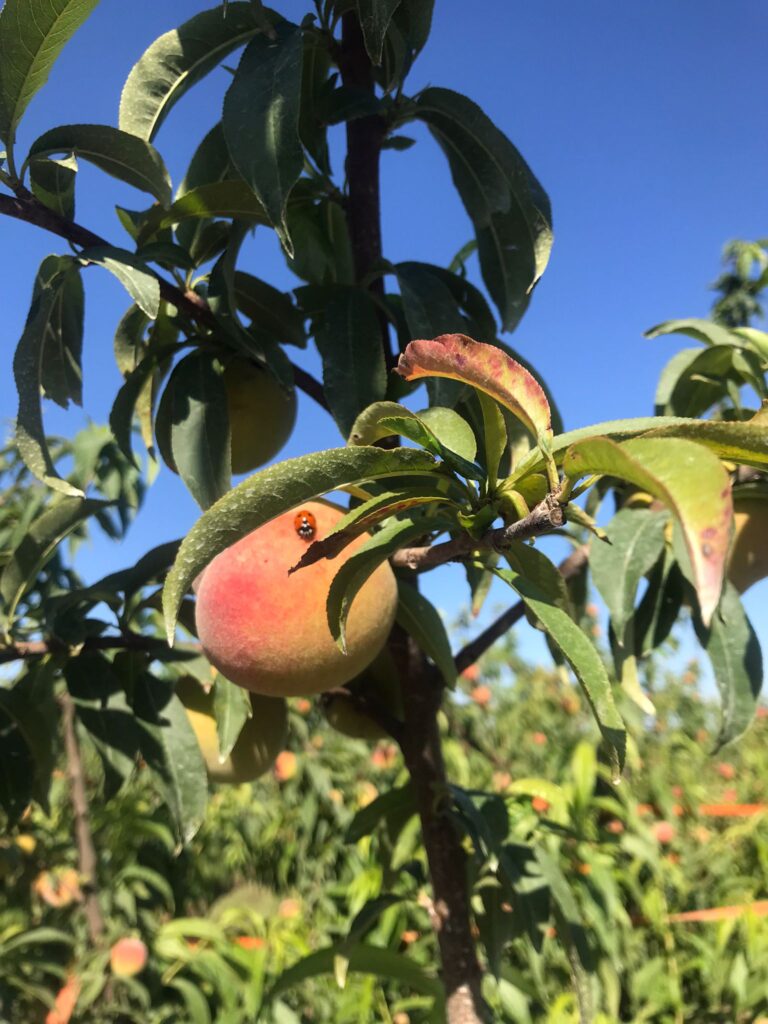 James, the ladybird, catching the Spanish rays on his giant Hacienda peach