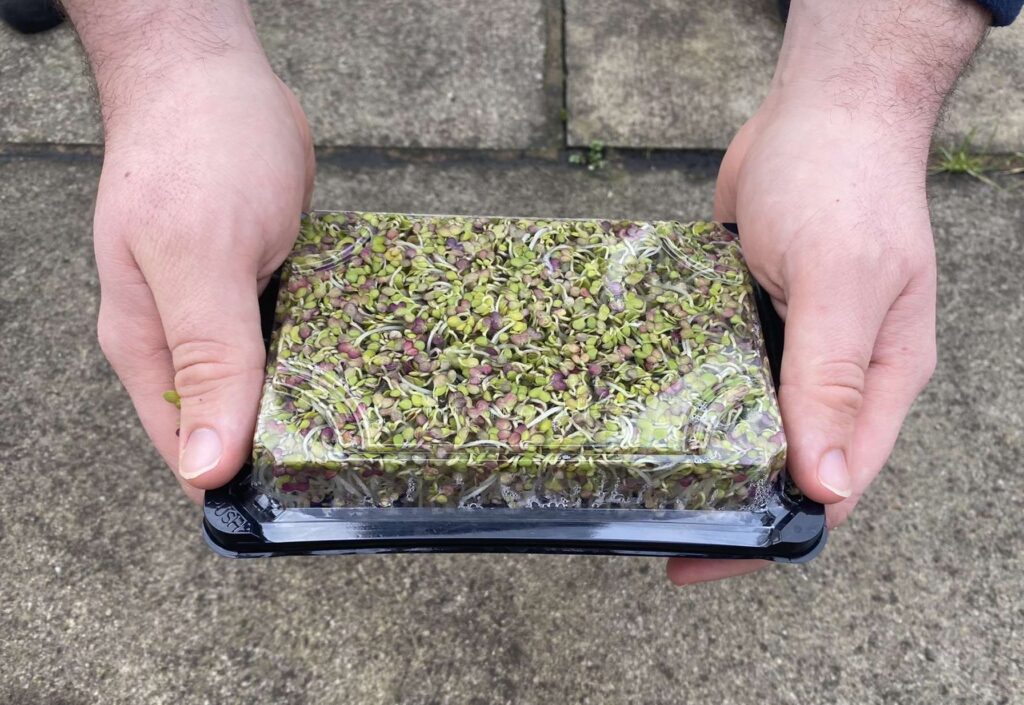 Burscough's new micro greens on offer – mustard leaves and sprouted radish!
Good afternoon, Organic Northerners!
Mad one this week…though mad has kinda long been the norm this end! We've had 4 staff unexpectedly off ill this week (shakes fist at bloody Covid) and our landlord has informed us that we've approx. 3 weeks to vacate our warehouse or face some serious disruption to our operations! So we remain on the war footing that we've been on for about 2 years and are frantically trying to get things in place to keep operations smooth. All in hand though, honestly : /
On the list front, is much the same as last week but there are certainly a few new things worthy of mention:
Burscough are now producing some micro greens for us as pictured above. To begin with they are trialling some decently sized/priced trays of mustard leaves (fiery!) and sprouted radish and these will initially only be available to Weds/Thurs/Friday customers. Great to be able to get some sprouted greens in more locally than we've been able to previously and we can vouch for the quality of them too after trying them a few weeks ago.
Royal Oak has some Jerusalem artichokes (ok availability) and a few boxes of baby parsnips that would be great roasted whole (v/ltd).
SKEA return to the list this week with some jacket potatoes- wahoo! : )
From elsewhere in the UK, Pollybell return with an unexpected small flourish of cavolo nero, there's less squash available again but still some to be had from Bedlam and Dart Valley return to the list but with only 10 boxes of their great mushrooms available.
For the cold weather our 'UK watercress' will continue to be imported temporarily from Spain.
Lastly, looking forward, next week should see the return of our pals from Sale, Glebelands Farm and their brilliant salad mixes.
The biggest news from abroad this week is that we've managed to source some sublime Tarocco blood oranges direct from one of our former suppliers 'I Frutti Del Sol'. These are showing more blood than usual, are significantly cheaper than those from Dynamis and are guaranteed to taste phenomenal. We're equally excited about the clemenvilla mandarins that we've got available from Gospa this week too. We've sampled these and they are phenomenal fruits- REALLY sweet and straight from the farm! They'll be some with leaves and some without available. Trust me, get on them.
We've cheaper Blue Whale Candine apples in available this week in the small 4kg boxes
From Dynamis we have added salsify, misato radish, thyme and the big succulent aloe vera leaves.
Across the board, cucumber prices remain really high too. I've not heard why this is the case but likely the Spanish weather.
From the bottom of the list, the amazing honey returns from Coato but the cheese from Botton Creamery is unfortunately unavailable. The guy there, 'Kev' has unexpectedly left all of a sudden and 'Nige' is struggling to keep the wheels turning. We've everything crossed for Nige and his search for a new cheesemaker as these are great cheeses that we'd be very sad to lose.
I'll end this week with another advert. This time for a very long-running and well-established box scheme customer of ours called 'Organics To You'. These guys have been around about as long as we have and are looking to retire by the end of March this year. They are looking to pass their business on for a reasonable price and their customers are very keen to remain as such, rather than switch over to one of the large box-schemes like Abel & Cole and Riverford. These guys are based in Roberttown (between Huddersfield and Dewsbury) but the scheme does not to be run from that area so if this opportunity sounds of interest to you, then please get in touch and we'll put you through to Liz & Neil there.
Over and out for now : )
Cathryn, Ellen, Josie, Sean and the team x