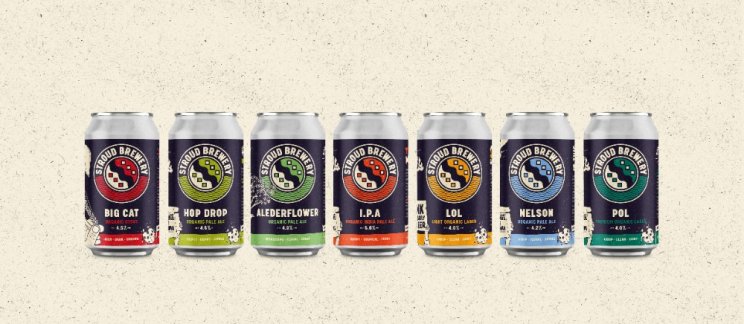 Good afternoon Organic Northerners,
As always, head to https://organicnorth.co.uk/online to place your orders
Well did I underestimate the lust for some yuletide merriment! Our sales of Christmas trees and wreaths hit a level that not only worried our farmer but had me equally worried as I was going to have to be the Grinch that let everyone down. Alas, our farmers at Trinity have come good on all of the trees and wreaths and even have a limited amount of each for us to sell next week too- phew!
On top of that, we've had to order another pallet of whisky & gin as you lot shown that you are all in need of a drink as much as we are. We've listed both in full cases this week, all bottles will come with their sleeves (distillery have insisted on this as they have a practical as well as decorative use) and the price is a little better too. Add to the above that we've just added a new canned beer supplier to the list in Stroud Brewery and our first ever biodynamic sparkling wine (2015 brut) from Laverstoke Park Farm and you guys are in for one boozy Christmas! : )
For some background, Stroud are a well-established brewery (2006) and one of just a handful of certified organic breweries in the UK. Their head brewer is an adventurer/environmentalist and as a registered B-Corp, their green credentials are as good as anyone's. As for our new biodynamic champers, a lot of you guys will be aware of Laverstoke already for their mozzarella cheeses and the like that we supply but for those in the dark, a brief synopsis. Laverstoke is owned and run by a former formula 1 racing champion, Jody Scheckter and they are based in Winchester where our Adam is from. His brut is made up of chardonnay, pinot noir and meunier grapes and is a light and clean-tasting drink with hints of green apples…we can confirm that it also slips down dangerously fast.
That's enough about booze but before I get onto veg, some technical improvements that you should know about. We've been listening to your recommendations so here goes.
You can now view and download your invoices. There is an Invoices tab next to your name. As well as PDF, invoices can be downloaded in Excel format.
You can now add Purchase Order numbers by date if required to orders. These will appear on your confirmations and invoice.
Order confirmations and Invoices can be sent to multiple users. Just let us know if you need to add any email addresses. Emails contain Excel format as well as PDF.
If your invoice runs to more than one page, your name and invoice number will appear on second and subsequent pages.
Special instructions to our drivers can be added to invoices. Just let us know if you have any.
Please be aware that we will sometimes amend an invoice after it has been emailed to you if there are any issues with delivery. You will receive a revised email and you can see from the invoice the date and time it was generated.
Certifiers and Countries are about to be added to email confirmations.
FRUIT & VEG:
Royal Oak have added red cara potatoes and a limited number of mixed colour sprout stalks
Strawberry Fields have green kale but no rocket this week
Broccoli numbers are very low from the UK this week so as usual this will be coming from Thaymin in Spain.
As well as Christmas trees and wreaths, Trinity Farm also have some biodynamic bunches of bay leaves available this week.
This will likely be the last week of Carey's apples
On the apple front we have we've goldrush from Pardoe, Winston from Carey, Mole End have cox royale back and Oakwood have winter gems too .
Bioalgarrobo have green Palermo peppers on and some loose bacon avos.
Biovergel have fennel, Zann have turnips and kumquats available
Lastly Dynamis have crosne, nasturtium roots, chicory, heirloom corne des andes toms, and wazabina.
From the bottom of the list we've our first cans available from Equinox and the pale ale is back on from Sam Smith too
CHRISTMAS DELIVERY PLANS:
Thanks to those that have sent through their Christmas/New Year ordering plans. To those who haven't yet, pull your organic bamboo socks up and get them over to us please! You may be hassled by our newest recruit, Durk (Andrew I think his real name is) today as as well as tasking him with delivery 2 tonnes of vegetables today, we've also asked if he can plough through the stragglers.
I'll leave you with some good news bad news. Bad news, global climate change is affecting cranberry growers. These are a water-heavy crop and droughts are harming their production internationally so we've heard. The opposite problem (too much bloody rain) is affecting Royal Oak just now but in better news, they have confirmed that they should be good for bajillions of sprouts this year.
Chin-chin, boozehounds!
Sean, Mo, Cathryn and the team
P.S. If Adam ever emails you with regarding changes to your order on a Thursday/Friday then we need your replies back by 6pm on a Friday or it is going to be unlikely that we are going to be able to source you a substitute for what you may be missing.